Check Out Our Previous Boxes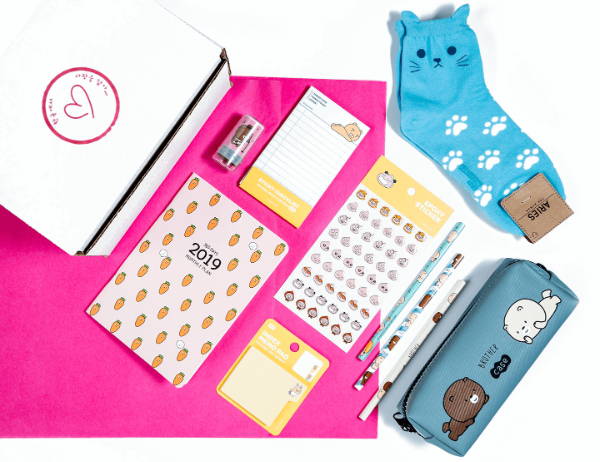 The February Box: A New Year
In February we released the "New Year Box."
Bringing in the new year is very important in Korean Culture. We sought to include items that would help you get organized in your everyday life. Whether you are in school or need some help at the office this box contains helpful items no matter what you spend most of your day doing.
Contents:
ARIES Cat Socks
Kakao Friends Ryan Check List
Kakao Friends Apeach Sticker Set
Kakao Friends Muzi Sticky Notes
Brother Stamp Set
Brother Pencil Set
Brother Pencil/Pen Case
Brother 2019 Monthly Planner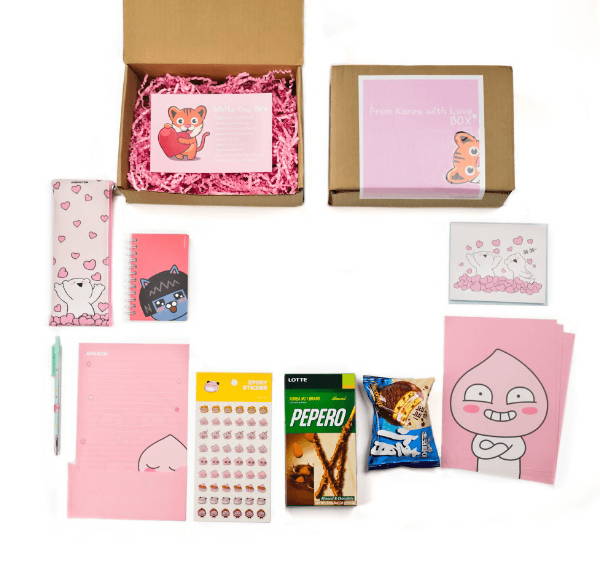 In March we released the "White Day Box."
In countries which observe White Day, Valentine's Day is typically observed by girls who present chocolate gifts (either store-bought or handmade), to boys, as an expression of love. On White Day (March 14th), the reverse happens. Men who received a gift on Valentine's Day are expected to return the favor by giving gifts to their lover. Traditionally, popular White Day gifts are cookies, jewelry, chocolate, or marshmallows.
Contents:
Overaction Pencil Case
Overaction Love Letter Set
Apeach Pocket Notebook
Apeach Gel Pen
Apeach Sticker Set
Apeach Letter Set
Pepero Chocolate Almond Snack
Chocolate Choco-Pie Snack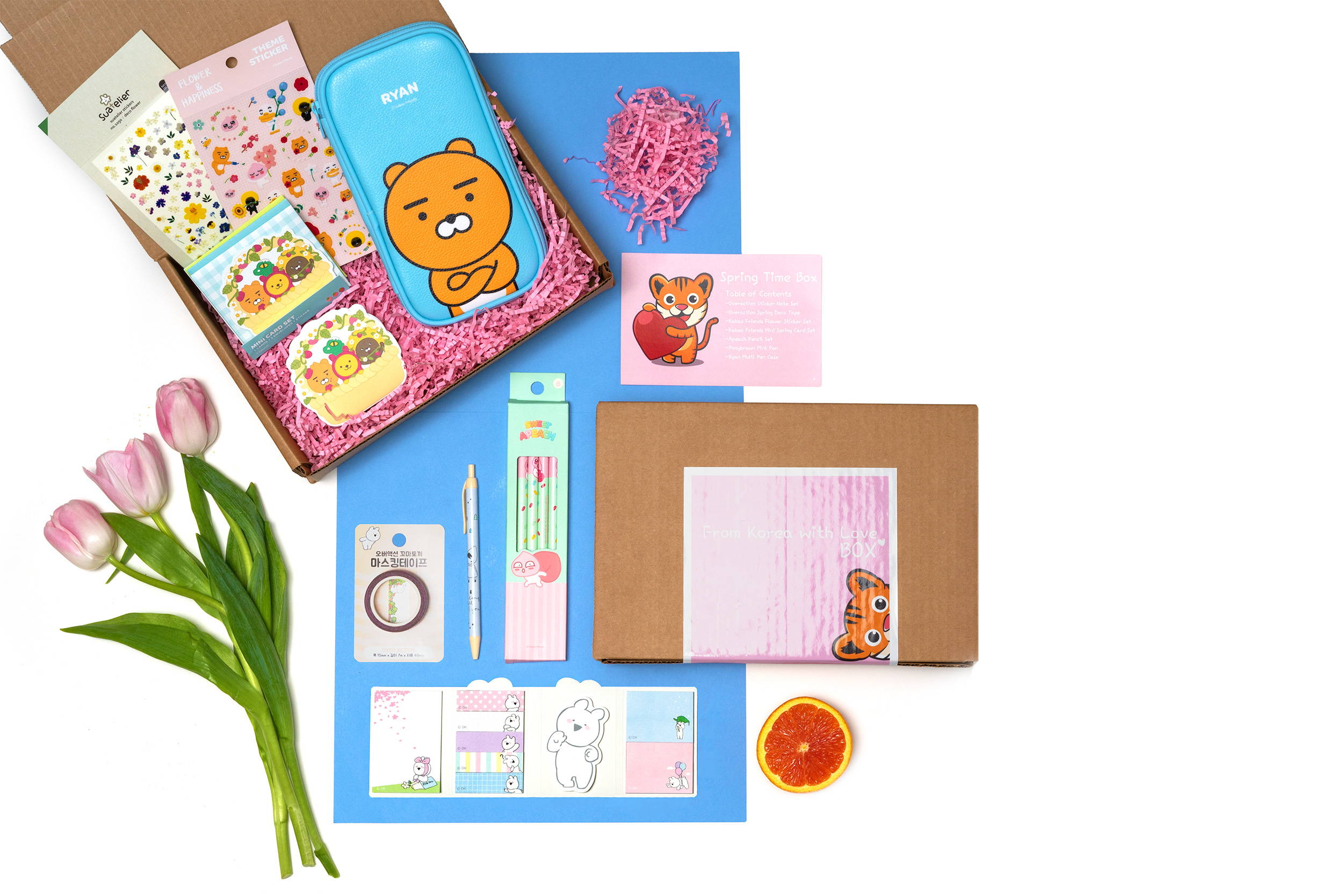 The April Box: Spring Time
In April we released the "Spring Time Box."
In Korea, cherry blossoms have the meaning of purity and beauty. While the origins of cherry blossoms in south Korea is a bit contentious, due to their introduction stemming from Japanese occupation during WWII. They are still seen as a major tourist attraction during the spring months of the year (mid March-April). During this time, cherry blossom festivals can be observed across the entire country mainly during the last few days of March. But, just because you missed the festivals does not mean you cannot enjoy the sites on your own.
This box has been curated to bring you one step closer to spring in Korea. With an assortment of spring time goodies we hope to inspire you to visit next year during this time.
Contents:
Overaction Sticker Note Set
Overaction Spring Deco Tape
Kakao Friends Flower Sticker Set
Kakao Friends Mini spring Card Set
Apeach Pencil Set
Ponybrown Pink Pen
Ryan Multi Pen Case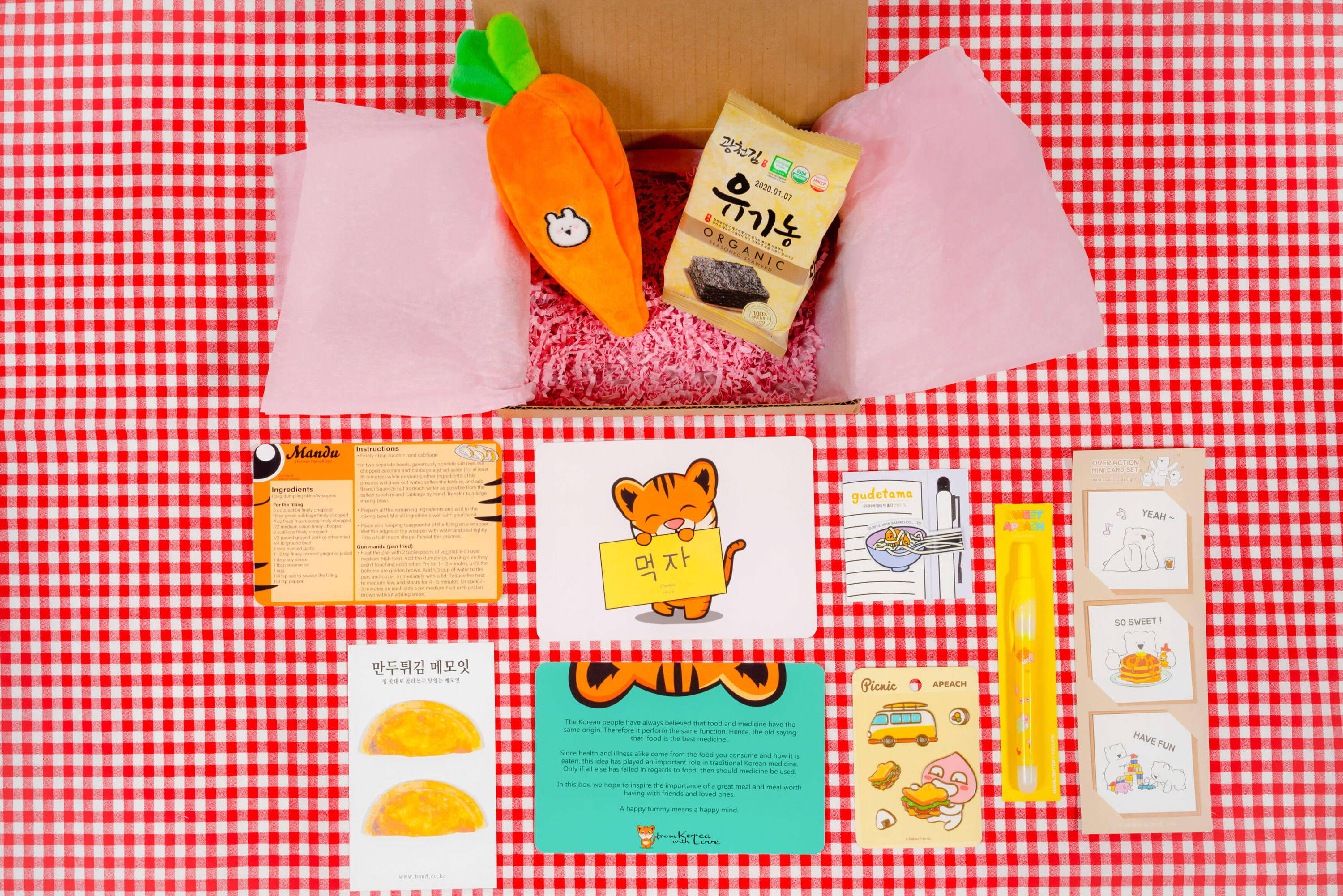 The Korean people have always believed that food and medicine have the same origin. Therefore, it performs the same function. Hence, the old saying that 'food is the best medicine.' Since health and illness come from the food you consume and how it is eaten, this idea has played an important role in traditional Korean medicine. Only if all else has failed in regards to food, then should medicine be used. In this box, we hope to inspire the importance of a great meal and a meal worth having with friends and loved ones.
A happy tummy means a happy mind.
Contents:
Overaction Carrot Pencil Case
Dumpling Memo Note
Kakao Friends Picnic Stickers
Overaction Mini Card Set
Gudetama Multi-pen Holder
Apeach Highlighter
Recipe Card
Yummy Seaweed =>.<=

We worked really hard to make sure that shipping would be free on our subscription boxes! It was no easy task because we import these items right from Korea, but we hate hidden costs!

Not feeling the box? Maybe you just want to change your mind down the road? No worries at all! There is no commitment, just let us know and we will cancel your subscription.

We are constantly searching South Korea for the most interesting and new items that will put a smile on your face. We try to keep each month interesting and unique. Your friends will be jealous.
"I got this box for my friend's daughter who just graduated college, she absolutely LOVES IT! It is outrageously cute, definitely one of the best gifts I've ever given."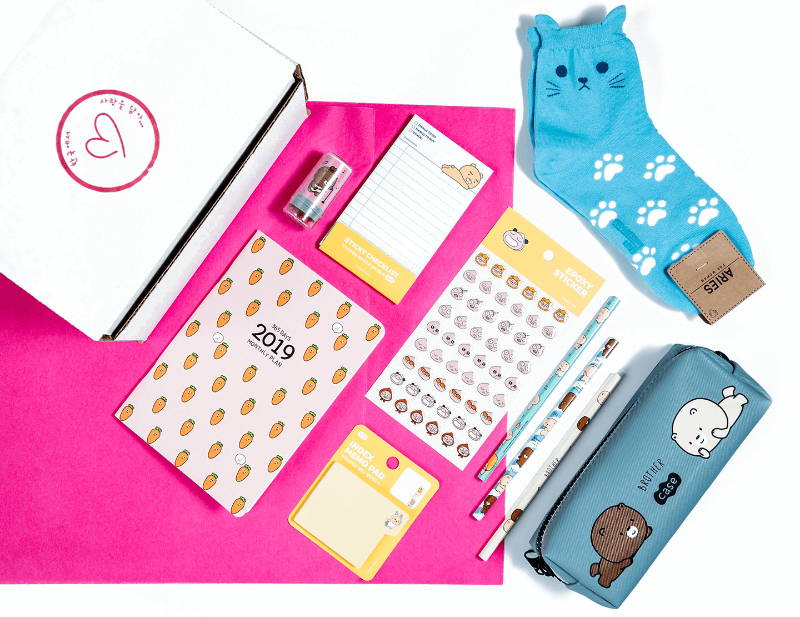 Have Questions?
Chat With Us =^.^=